Pop Rock Composition Course
With DM n.475 of 27 May 2022, the CPM obtained recognition from the Ministry of University and Research - MUR of the three-year period of Writing&Production, now a First Level Academic Diploma course in Pop Rock Composition, a title equivalent to a Three-year degree.
First Level Academic Diploma Course in Pop Rock Composition
The peculiarity of the CPM Pop Rock Composition Academic Triennium, compared to the same course provided by other educational structures, is that it is characterized by an annual number of hours between 577 and 596 hours, with lessons on site and in recording studios associates such as Alari Park Studios and Core-T-Zone, as well as practice in live settings.
The Pop Rock Composition course is based on 3 pillars - composing, arranging, producing - which form the foundations of an academic path dedicated to those who aspire and aspire to be the reference figure alongside the great artists of the national and international scene, as well than to personally take care of their own productions.
Those enrolled in the Pop Rock Composition course will be confronted with core subjects such as Music IT, Composition and arrangement, Improvisation techniques, Programming for audio and musical applications, as well as Harmony, Ear training, History of music.. for a course that combines practice and theory.
The course is led by Diego Maggi and Lorenzo Cazzaniga, as Heads of the Department. With them: Fabio Nuzzolese, Mell Morcone, Alex Trecarichi, Giovanni Boscariol and Gabriele Comeglio.
Discover the study plan of the First Level Academic Diploma course in Pop Rock Composition and how to access the course.
Writing&Production course
In order to access the three-year academic course in Pop Rock Composition, it is necessary to have a High School Diploma, as well as for any academic path. In case you don't have the Diploma, you can always enroll in the CPM, but in the Writing&Production course.
While the teaching staff and the duration, 3 years, remain unchanged, Writing&Production differs from the Pop Rock Composition course both for the final qualification, which in this case is not comparable to a degree, and for the annual number of hours between 326 and 386 hours, missing subjects such as Ear Training, Space Acoustics, Complementary Piano, Music History, English, Legal & Business from the study plan.

To access it is necessary to support an audition. Discover the Writing&Production study plan.
Classrooms
Discover all our classrooms where you can take lessons
Discover all our classrooms where you can take lessons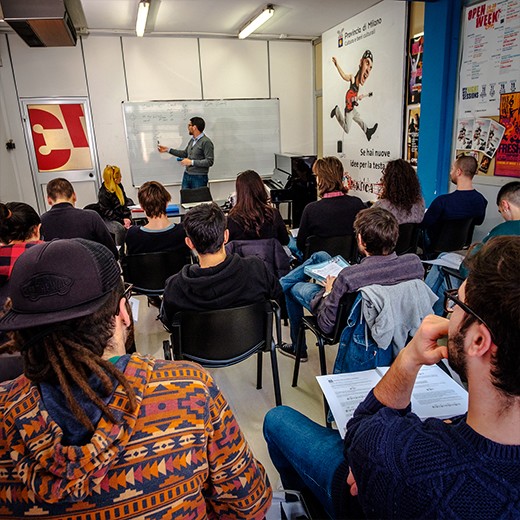 Discover all our classrooms where you can take lessons
Discover all our classrooms where you can take lessons
Discover all our classrooms where you can take lessons
Discover all our classrooms where you can take lessons
Discover all our classrooms where you can take lessons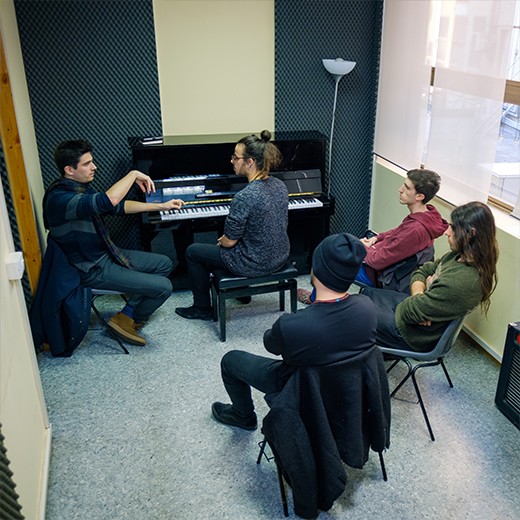 Discover all our classrooms where you can take lessons
Discover all our classrooms where you can take lessons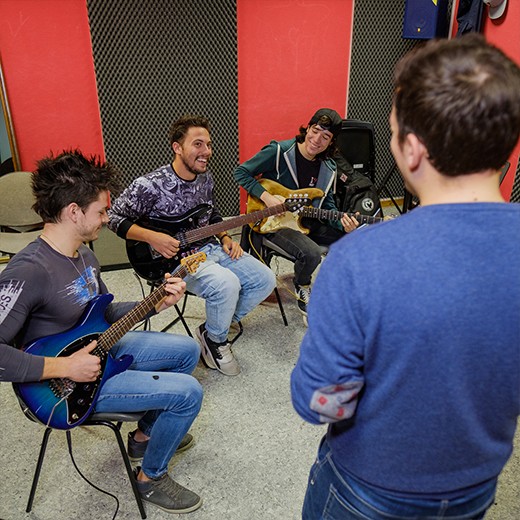 Discover all our classrooms where you can take lessons
Discover all our classrooms where you can take lessons
Discover all our classrooms where you can take lessons
A personalized course, built according to your time